DAB Door offers at a minimal additional cost upgraded hardware from Stealth Hardware Solutions (SHS)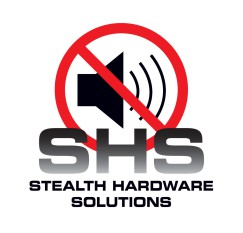 SHS is the world's first patented 'Quiet' hardware system that produces no metal-to-metal contact or transfer noise, thereby virtually eliminating sound caused by the movement of the garage door.
SHS is the system of choice for discriminating property owners who prefer peace and quiet while enjoying the confidence of having a garage door, or doors, capable of withstanding hurricane-force winds.
Available as an upgrade on all our Residential and Commercial Hurricane Master doors, and as a retrofit kit for any brand of sectional garage doors, the SHS system works with all manufacturers' garage doors and is Dade County Product Approved so you can have your quiet time and protection.